In a previous post I wrote about how I have been leading Tarawih for many years Alhamdulillah. As a result of this, I haven't traveled in Ramadan for many years. In fact I have advised many a young Hafidh to make sure to stick to his Tarawih and not skip any days! However this year I was being requested by a few locations and some very dear friends to work in a couple of trips this Ramadan. Traveling during Ramadan is not only a part of the Seerah but two of the greatest moments from the life of the Messenger of Allah, Muhammad (peace be upon him) occurred during this blessed month; Battle of Badr and the Conquest of Makkah.
In any case I decided to accept a couple of invitations. The first was to a part of the country where I've been to quite a few times this year, SOCAL! I mean what's not to love about SoCal? Beautiful weather, amazing communities like Masjid Omar AlFarouk, old friends like Shaykh Nomaan Baig and the rest of the crew at Institute of Knowledge, inspirational people like Shaykh Muhammed ibn Faqih, One Legacy Radio, and last but not least MOHAMMED MANA!

The primary reason for the trip was to speak at the annual iftar banquet for IIOC – Masjid Omar AlFarouk. MashaAllah what a great community! I've been impressed with this community but the presentations made were sincere and highlighted the awesome projects underway.
Not only are they active in doing Dawah but also have a support system for new reverts. Any brother or sister who has taken Shahadah is assigned a mentor to help figure things out. A few people who have been through this program spoke at the banquet and it was very powerful and touching! They have a diversity of social activities going on to help establish a proper sense of community. They have a very active Education Committee that organizes and hosts a variety of lectures and seminars. Two of them that I had the pleasure of being a part of were; they hosted 'Meaningful Prayer' and they organized a Summer Tafseer Intensive where I presented the Tafseer of Surah al-Hashr. MashaAllah they have an up and coming Youth Department headed by Br Atif Abdul Qadeer. Masid Omar has also become the standard for recording and providing media online. Finally, the leadership at Masid Omar at all levels is exceptional. The Shura which is headed by Br Samir, Shaykh Muhammed Faqih, Qari Youssef Edghouch, and all the volunteers.
After the banquet they had arranged for Tarawih at the venue and it was lead by none other than Qari Youssef! I am always moved by his recitation, so I recorded a couple of clips. Here they are for your benefit and pleasure. You're welcome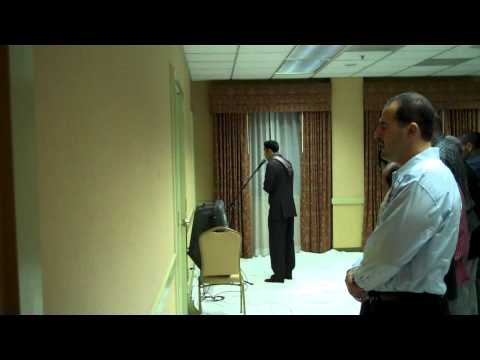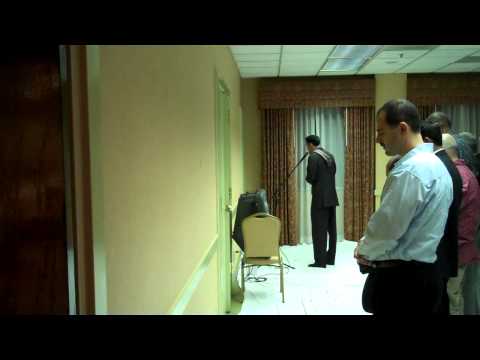 While I was there I also had the opportunity to visit the MAS All-Masajid Qiyam hosted annually at the Islamic Society of Orange County in Garden Grove. There were literally hundreds of youth there MashaAllah. I spoke at the Qiyam addressing how to come closer to Allah by familiarizing ourselves with the Beautiful Names and Attributes of Allah.
Next morning it was back home Alhamdulillah!